Xenobiology Codex

An AI-generated compendium of 96 pages of alien flora and fauna with fantastical sketches, illustrations, and scribbled notes and annotations, resembling the Voynich Manuscript.

Created using Midjourney . Warning: contains some images that look humanoid in nature, with faces and body parts rendered as if appearing in anatomical textbooks.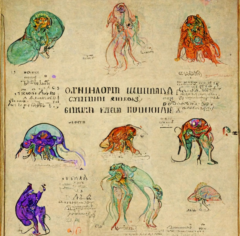 Use: Any non-commercial use, nothing connected to blockchain or NFTs, no attribution necessary. :)

Download
Click download now to get access to the following files:
xenobiologycodex.pdf
727 MB
Comments
Log in with itch.io to leave a comment.
this is AMAZING! Thank you!
It's a PDF, do you have anything installed that reads PDFs? Usually they open in the browser but if you're looking on a phone you may need to have something specific installed.
A fantastic artefact that uses AI to construct a reference book from a nightmare universe. Perfect for inspiring descriptions in a fantasy-horror context, or just send your RPG players a copy of the PDF and tell them that while they may have found a book, they've lost a bit of their grip on reality at the same time. Beautiful stuff.
You are doing such a great job ! I love it.
You might want to change the banner and add a warning for trypophobia too, it's exactly the kind of imagery that can trigger some people ;-)

:D :D Thank you! I'm almost done with the sci-fi one :O
This is so wildly cool, thank you for making it!